What is an Infrared Sauna?
The use of therapeutic sweating has been a common practice all over the world for centuries. These practices were originally part of Chinese, Native American, and European medicine but are gaining popularity across the globe today due to all its documented benefits. Sweating is important because we ingest and retain toxins every day, from the air we breathe to the food we consume. With all of the increased toxins found in our air, food, and environment today, this is more important than ever. The fundamental benefit of an infrared sauna is the unique ability to detoxify, or sweat out, these toxic substances, many of which can lead to a variety of diseases down the road. The newest innovation in sauna therapy is the use of near, mid, and far-infrared light to provide even more therapeutic benefits than traditional sweat lodges.
While traditional saunas work by heating the air inside a closed room using a conventional heater, the use of infrared lamps warm your body directly. Inside an infrared sauna, 80% of the energy used goes to heating the skin while the remaining 20% heats the air. This results in a much cooler sauna experience which makes it more suitable for people with heat sensitivities. Likewise, sweat from traditional saunas is approximately 95-97% water, with salt making up most of the remainder. Infrared mobilizes specific toxins, like Mercury, in deeper tissues (3 inches down) making infrared saunas an effective solution for removing these toxins from the skin. Far-infrared saunas are believed to be more effective in moving toxins through the skin than traditional saunas because in a far-infrared sauna, only 80-85% of the sweat is water. The remainder is made up of a variety of elements including cholesterol, fat-soluble toxins, toxic heavy metals, sulfuric acid, sodium, ammonia and uric acid.
What is Infrared Light Therapy?
Infrared light is one of the invisible spectrums of light produced by the sun. This is what makes your skin feel warm when you are out in the sun. Because your skin is made to absorb these wavelengths, the heat easily penetrates the body. There are three categories of infrared light, near, mid, and far-infrared.
Near-infrared, the shortest wavelength, penetrates the deepest into your body to heat you from the inside out. This wavelength boosts cellular repair and regeneration, and helps your cells to produce more energy.
Mid-infrared waves, on the other hand, boost circulation by improving vasodilation. Therefore, this type of infrared radiation increases your overall metabolism and raises your heart rate, which will bring even more oxygen to your cells.
Far-infrared (FIR) waves are most similar to the natural heat of your body and are readily captured by your cells. When exposed to FIR, you enhance and strengthen your energy stores.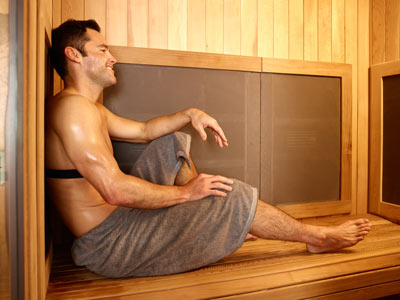 Benefits of Infrared Saunas
There are many conditions and illnesses that can benefit from exposure to infrared therapy. In addition to improving overall health by eliminating toxins and diseases, using a sauna is also a relaxing, enjoyable experience which can produce mental and emotional benefits as well. Infrared saunas can help a myriad of conditions. Read the entire article to learn about all the benefits of infrared therapy or hit each topic separately to go directly to the ones that most interest you.